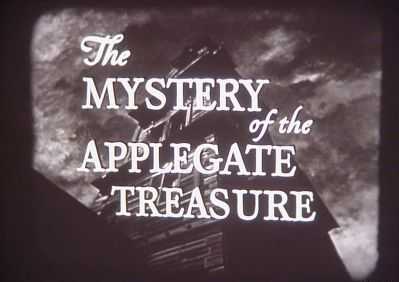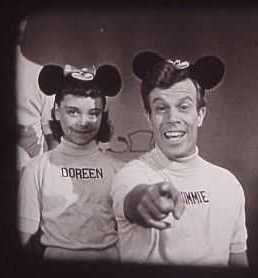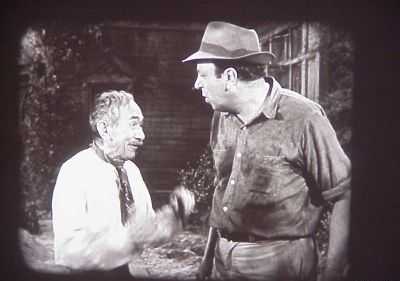 Hear this awesome mouseketeer Roll call video
and see all your favorites singing and dancing

Swing, Ginny, Swing!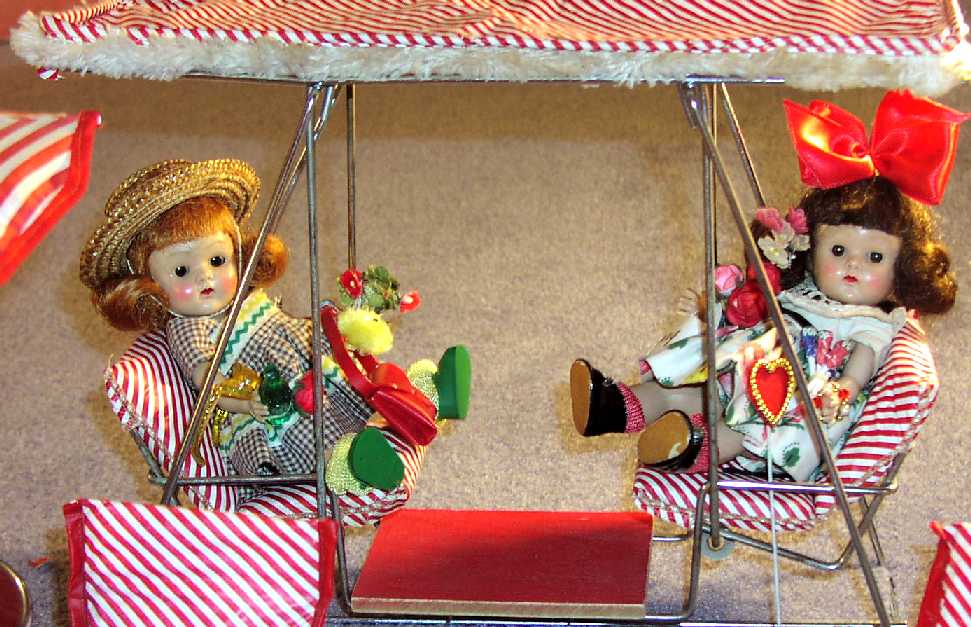 Watko Doll Swing
This adorable 50's metal swing matches my very HTF vintage
Watko furniture to a tee and still
has the original kick plate wired
in place. The plastic fabric looks to be Watko
for sure with variation in trim design.
The steel construction is wonderful
and the vinyl canopy and
padded cushions are too cute for words!
This swing was my Xmas
gift this year and I looked a long time to find one!
Although I love
my Strombecker pieces, I have to say
I almost prefer the early
Watko pieces for 50's charm, color, and construction.
An almost identical Watko swing sold in 1996
for $425.00 at Theriault's and
the bottom plate was missing.
More swing pics! CLICK Close-ups! 1 2 3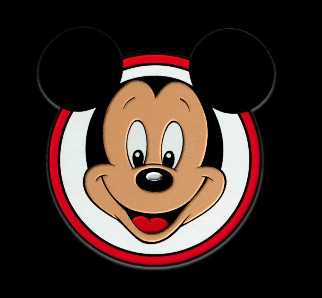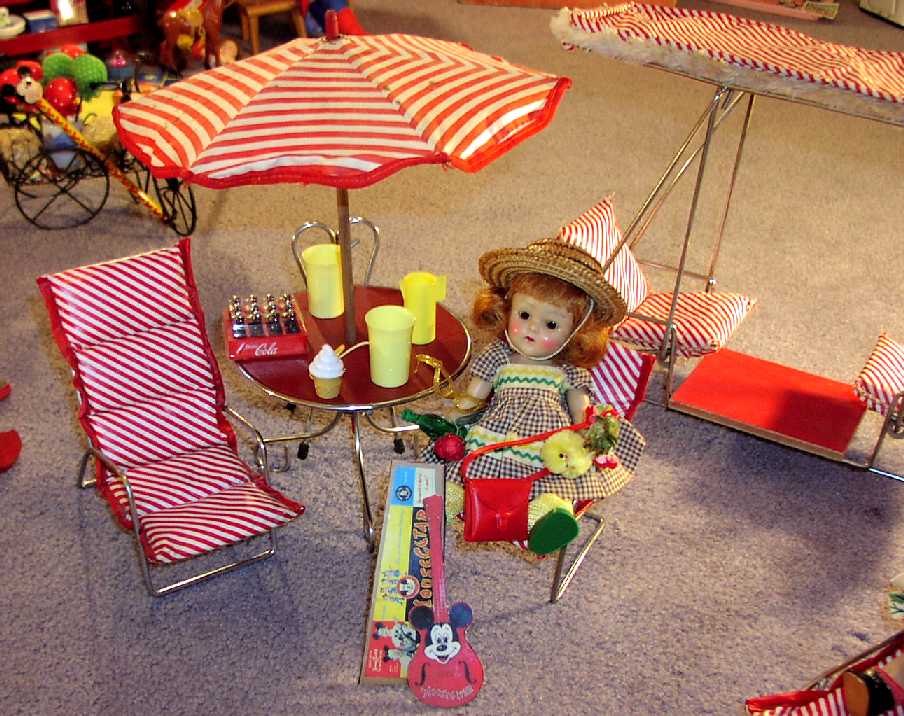 This outdoor Watko canopy table came with two bistro chairs.
You can see the top of the steel bistro chair in the background.
My bistro chair is missing the seat.
The canopy umbrella is striped cloth and still in very good
condition. The original table top is great
and remains wired on. The Watko striped chairs
are like new even though they were made around
1957 and considered high end furniture back then.
See the Watko chaise lounge below!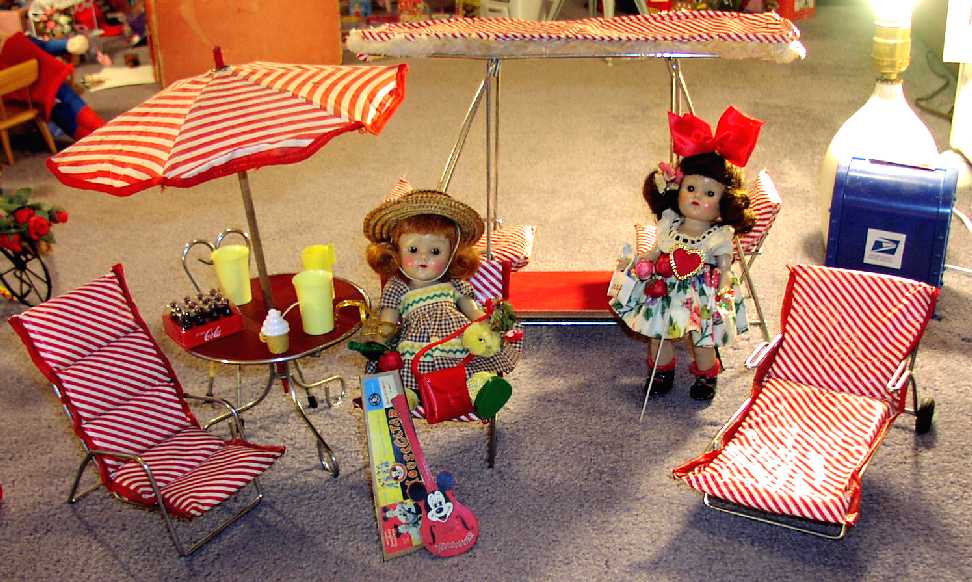 Strung 1953 Tina and Linda are snacking!
Watko chaise lounge has rubber wheels!
See close-up of set without dolls. 1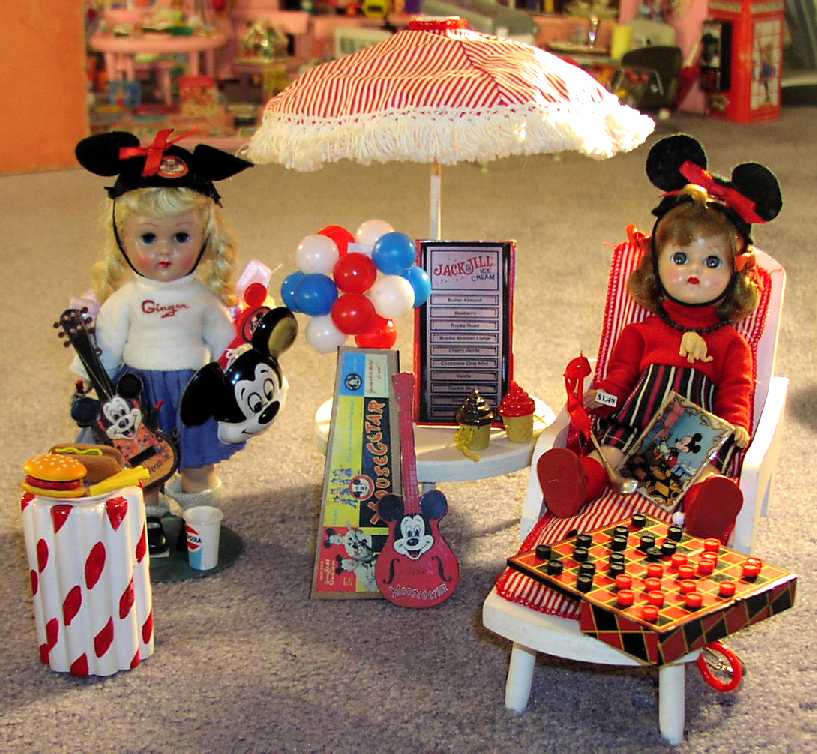 The mouseketeers are at play and taking a lunch break!
Ginny as Karen and Ginger in Ginny's golfing suit
are having fun relaxing with
wooden furniture made by Hall's in 1965.
The round table is number #282
and it came with two drilled holes in the table top
so that the umbrella angle
could be adjusted.
The striped canopy has wooden spokes.
The chaise with original pad is #281.
See the white lifeguard chair that goes great with this set!
It is new and holds a Wendykins!
The wooden swing you see in the click pic is
Strombecker and shown in full size here: http://cataumet.net/carolyn/plw15.htm CLICK 1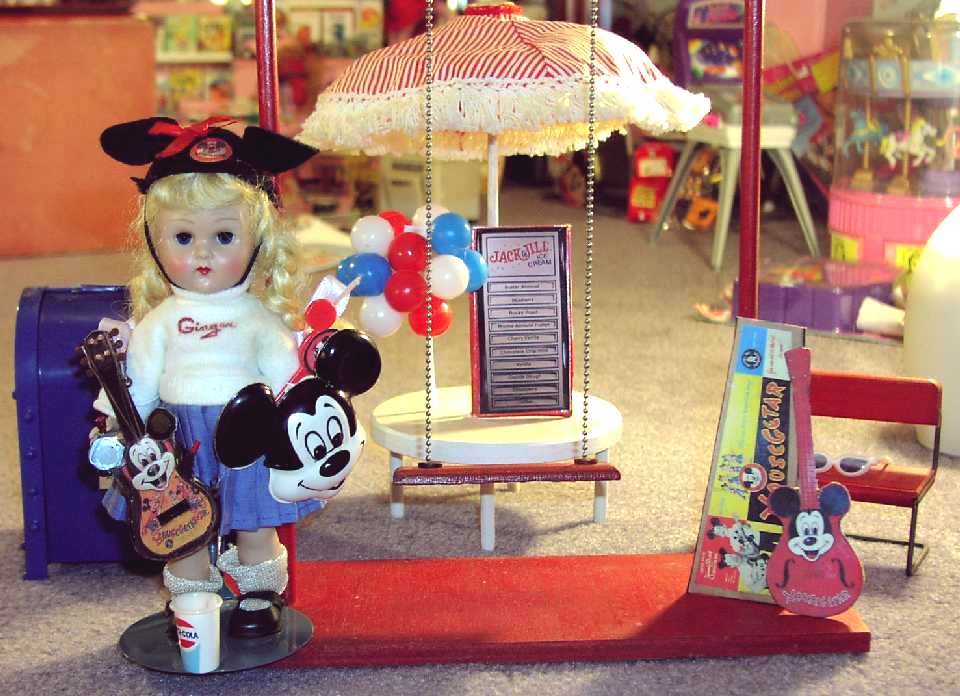 Ginny as Karen and rare Sandra Sue swing!
This fantastic swing was made for the Sandra Sue doll
by Richwood from 1953-1958.
It is perfect for Ginny and complements
her own Vogue gym as the original paint color
is almost the same.
Under the swing there is a sandpaper like surface
meant to simulate grass.
When assembled it was put together
with the sandpaper side down. To prevent slipping?
The matching #501 see-saw with simulated grass
and top of the swing can be seen if you click added pics.
Ginny is swinging the day away!
The wooden bench is Strombecker.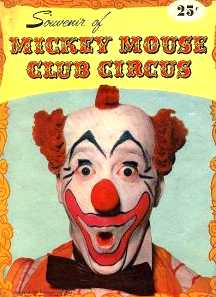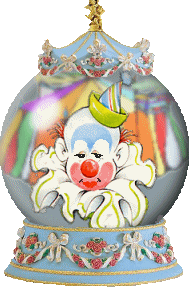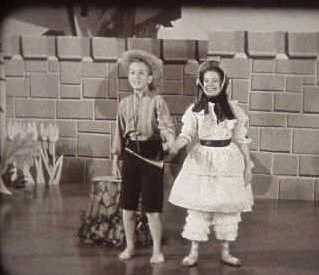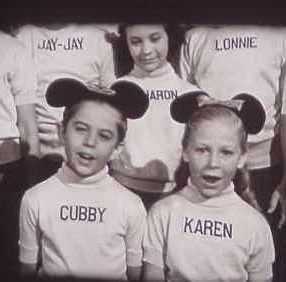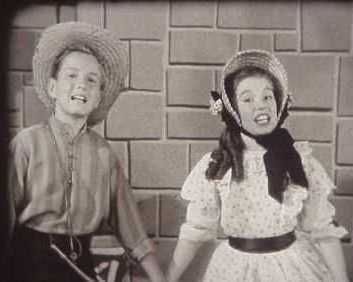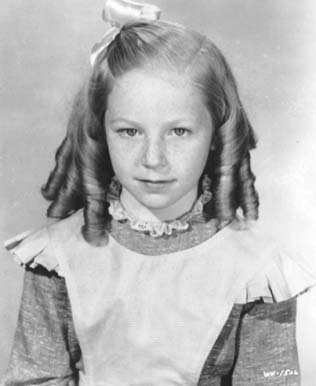 Doll House Page 25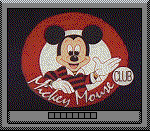 Click to see Blue and red Watko bedrooms
Doll House Page 26
| | | | | | | | | |
| --- | --- | --- | --- | --- | --- | --- | --- | --- |
| Dollhouse Page 1: House, Juke box,Lucy TV | Page 2 Gymset | Page 3 Ginny Goes shopping, pink set | Page 4 Annette wardrobe | Page 5 Lemonade, Katz green tin set | Page 6 Muffie ,Ginny School | Page 7 Disney display | Page 8 Breck Beauty Parlor | Page 9 Big Band Concerto |
| Page 10 Romper Room | Page 11 Girl Scout Bake Sale | | Page 13 Laundry Page 1 | Page 14 Laundry Page2 | Page 15 Bubble bath | Page 16 Xmas House Tin,Toys | Page 17 Ginny Beach, Boat, Pool | Page 18 Baking Fizzies |
| Page 19 Kitchen Maypo,Krispies | Page 20 Make Believe masks | Page 21 Beatles 60's Dorm | Page 22 Ginny and Carousel | Page 23 Muffie Bonnie Books Keystone set | Page 24 Ginger Ginny Davy Crockett Ding Dong School | Page 25 Mickey Mouse theme, Watko, Halls Play Outdoor 50's furniture | Page 26 Ginny , Ginger, Muffie with Ginger's Watko Blue&Red Bedrooms and Bistro set! | Page 27 Ginny and Muffie vanity sets |

Click to return to Home page

Carolyn@cataumet.net