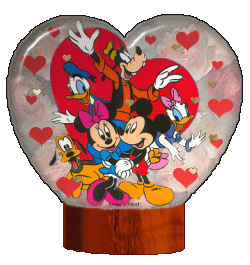 My Disney display! Dolls are behind glass which distorts the pic a bit but you get the gyst!!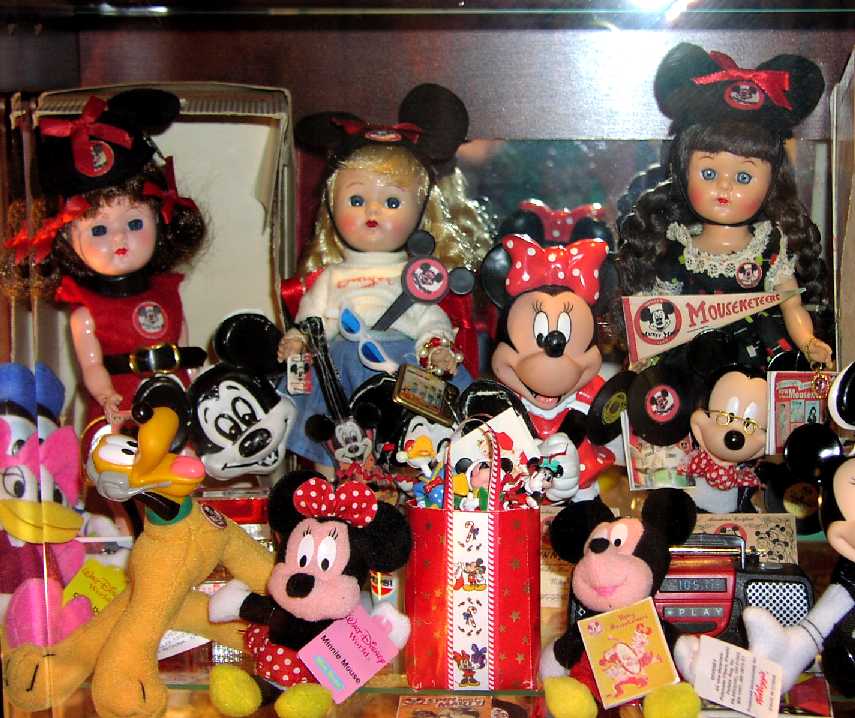 Silver slot machine behind Pluto works, bag of Disney toys. Radio behind seated Mickey actually plays. Kelloggs Minnie and Mickey in front from Linda! Tall Minnie and Mickey has spectacles!!!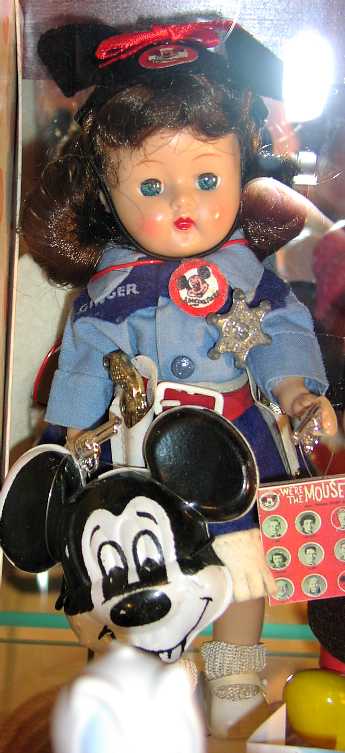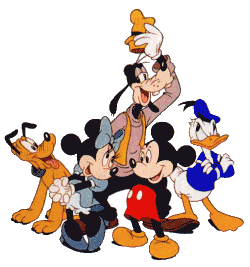 Ginger holds a mouseketeer sing-a-long record!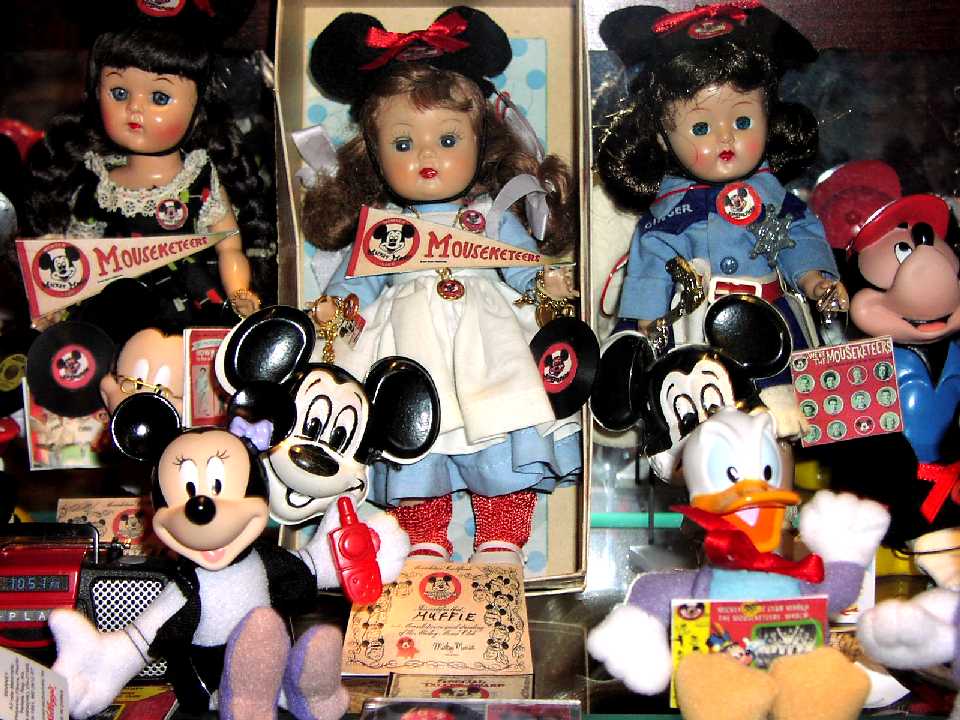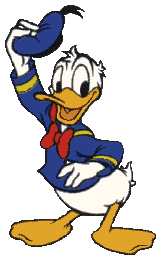 Minnie presents Muffie (her pic came out badly! Oh well ,she is shown in full view on Page 6 Muffie and Ginger) and her certificate to the Mickey Mouse Club! Donald holds a Mouseketeer record jacket. Tall Mickey stands beside Round-up Ginger!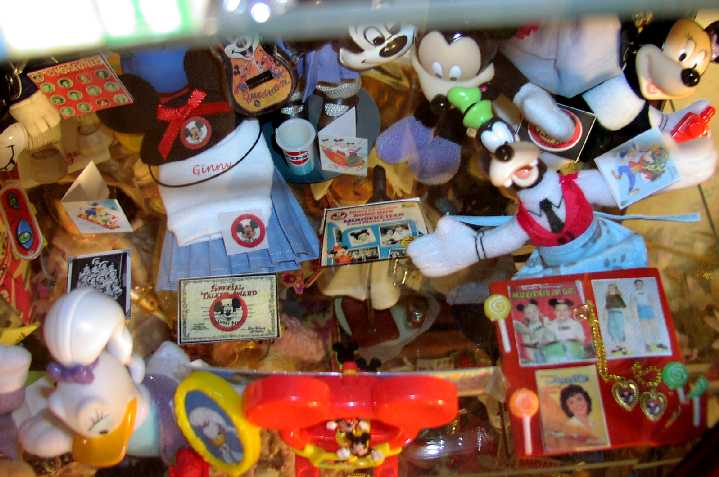 Close-up of a few accessories on the shelf. Talent awards, mouseketeer outfit, cup, cards, record album, Goofy plays paper dolls! Mouseketeer jewelry on shelf with lollipops.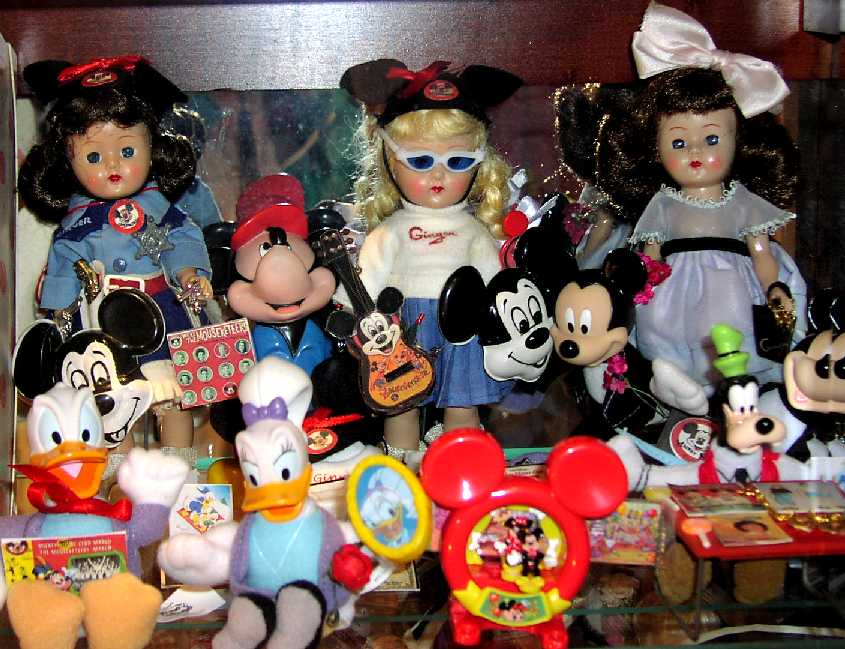 Donald and Daisy keep the mouseketeers company! Mickey puppet show beside daisy! Ginger in dress holds hands with Mickey and Minnie! These dolls with plastic heads are to scale for Ginger and fantastic!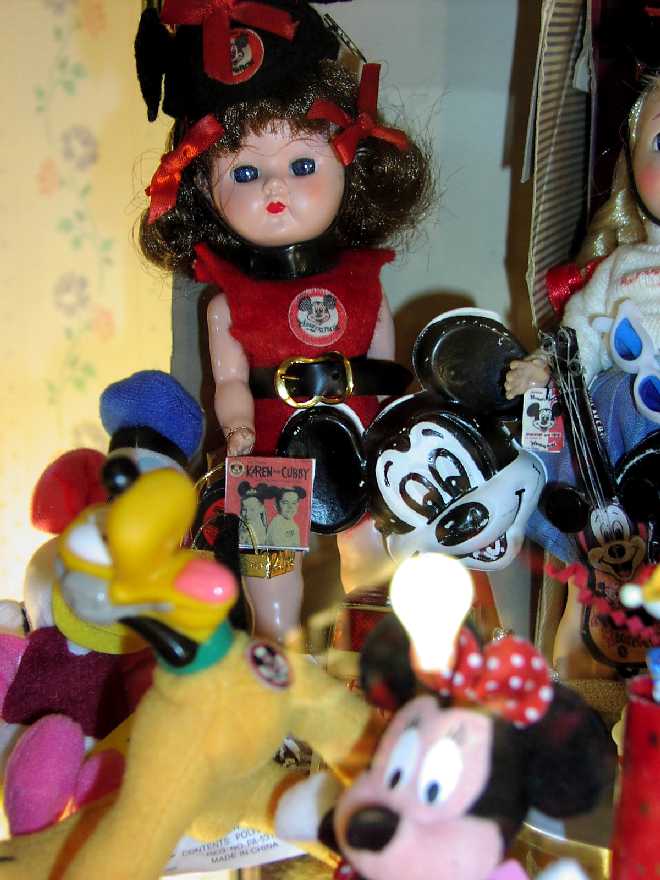 Ginger as Annette and Pluto




Dollhouse Page 7
| | | | | | | | | |
| --- | --- | --- | --- | --- | --- | --- | --- | --- |
| Dollhouse Page 1: House, Juke box,Lucy TV | Page 2 Gymset | Page 3 Ginny Goes shopping, pink set | Page 4 Annette wardrobe | Page 5 Lemonade, green tin set | Page 6 Muffie ,Ginny School | Page 7 Disney display | Page 8 Break Beauty Parlor | Page 9 Big Band Concerto |
| Page 10 Romper Room | Page 11 Girl Scout Bake Sale | | Page 13 Laundry Page 1 | Page 14 Laundry Page2 | Page 15 Bubble bath | Page 16 Xmas House Tin,Toys | Page 17 Ginny Beach, Boat, Pool | Page 18 Baking Fizzies |
| Page 19 Kitchen Maypo,Krispies | Page 20 Make Believe masks | Page 21 Beatles 60's Dorm | Page 22 Ginny and Carousel | Page 23 Muffie Bonnie Books Keystone set | Page 24 Ginger Ginny Davy Crockett Ding Dong School | Page 25 Mickey Mouse theme, Watko, Halls, Outdoor 50's Play Furniture | Page 26 Ginny , Ginger, Muffie with Ginger's Watko Blue&Red Bedrooms and Bistro set! | Page 27 Ginny and Muffie vanity sets |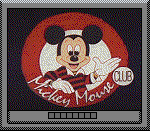 Click and proceed to see The Breck Beauty Parlor dolls! Yes, another salon! On Page 8

Click to return to home page

Please click here to e-mail me